Kingfisher Cottage Bed and Breakfast is perfectly located for exploring both Tavistock and its surounding areas.
Tavistock
Tavistock is the largest town in West Devon (population approximately 11,000), with its architecture of local stone, wide range of interesting and practical shops, market, riverside park, leisure centre and theatre, is excellent for visitors, both to see the town itself and as a base for exploring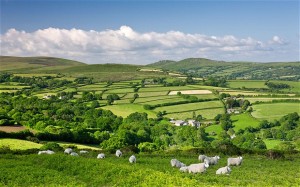 the surrounding beautiful countryside, the wild Dartmoor scenery, the many nearby pretty villages of Devon and Eastern Cornwall, and a variety of National Trust properties
Tavistock has retained its 19th century Pannier Market and shop facades in the town area, and these together with its fine public buildings and The Meadows recreational area gives the town a character and atmosphere which makes it an attractive place to live in. In 2004 the town was chosen as the 'Best Market Town in England' by the Daily Telegraph
About 11 km (7 miles) north of Tavistock there is the historic village of Lydford and at the further distance of about 12 km (8 miles) lies the important market town of Okehampton, close to the A30 east-west trunk road and called the "Gateway to Cornwall"
Other Places to Visit
Brentor Church
12th century, spectacularly situated on the tor close to Brentor Village, north of Tavistock.
Buckland Abbey (National Trust)
Buckland Abbey is a national trust property located south of Tavistock, near Yelverton, which Sir Francis Drake and, later, Sir Richard Grenville ha
d as their homes.
Castle Drogo (National Trust)
Castle Drogo close to Drewsteignton village: the spectacular last castle built in Britain.
Cotehele House and Gardens (National Trust)
The national trust property of Cotehele is near the town of Gunnislake, a short distance into Cornwall
Dartmoor
Kingfisher cottage is location on the fringe of Dartmoor with its rocky tors, many of which are easy to reach from road-site car-parks.
Lydford
Just north of Tavistock, set up in about AD890 by King Alfred as a defence against the Vikings & Cornish: the village contains St Petrock's Church, Lydford Castle & Lydford Gorge (National Trust).
Morwellham Quay
Morwellham Quay is formerly the industrial riverside-port for the Town: 15 minutes drive westward from Tavistock
 Okehampton
The historic market town of West Devon and called "The Gateway to Cornwall".
Princetown
A short drive from Tavistock on top of Dartmoor is Princetown. It  is the location of the famous prison, built to hold French prisoners captured during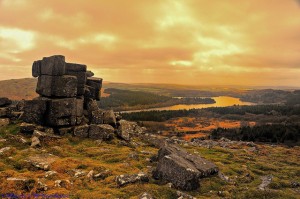 Britain's 1793-1815 war with Napoleon and American prisoners of Britain's 1812 war with the USA: well known from Conan Doyle's "The Hound of the Baskervilles".